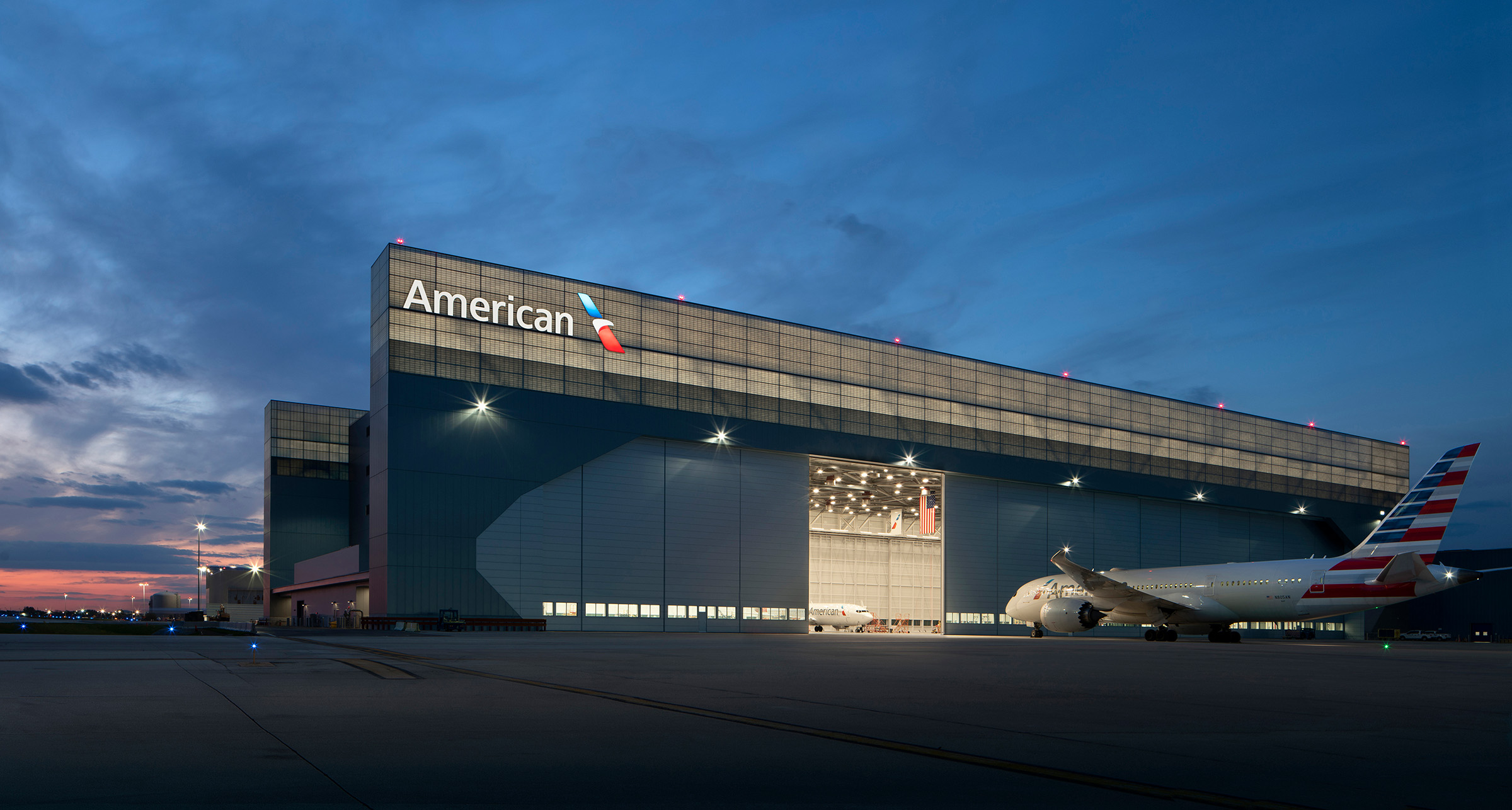 American Airlines Hangar 2 at O'Hare International Airport
Chicago, IL
New construction of a 160k SF hangar for American Airlines to house six 737 aircraft. Constructed from 7,000+ tons of steel and stands eleven stories tall.
Architect
Project Size
160,000 SF Hangar; 35,000 SF Support Facility; 600,000 SF apron and equipment parking area
Market Sector
Office
Structural Engineer
Owner Representative/ Program Manager
American Airlines Hangar 2 was the first new hangar built at O'Hare International Airport in Chicago in three decades. This Hangar has the distinction of being O'Hare's largest hangar as well as one of the largest clear span, dual threshold airline hangars in the world.
The dual-entry, flexible hangar concept for the 194,000 SF facility maximizes the allowable aircraft parking positions while minimizing the total gross area of the building. The solution houses all aircraft variants in American's fleet, including narrow-body & wide-body types. The facility also provides ancillary support functions, including a general back shop, a component staging area, and storage spaces.
Its construction improves American's aircraft and maintenance operations while serving the greater modernization of the Chicago O'Hare International Airport. This project is a landmark for the redevelopment of American's next-generation facilities and will ultimately strengthen the airline's future growth.
Quantitative project details:
7,000 tons of structural steel were used in construction: equivalent to a 38-story high-rise
14,400 cubic yards of concrete
461,000 man hours
525 feet long, the hangar's clear spans are nearly the length of an entire city block and are supported by steel piles driven 100 feet into the ground
Large enough to house six 737 aircrafts
Over 20,000 linear feet of underground utilities provide point-of-use aircraft services for safer, more effective, and timesaving operations
MBE/WBE participation exceeding 28% MBE and 7% WBE with many firms having significant roles
13 MBE firms and 6 WBE firms had prime contracts and 53 other MBE/WBE firms participated on the project
Project Attributes
Sustainable Project

Self Perform Project

Repeat Client
A Self-Perform Success
Innovative solutions to shorten the project schedule
W.E. O'Neil's self-perform concrete group took an innovative approach to completing the concrete work on the site. Concrete was poured prior to enclosing the building which allowed the owner to begin using the hangar months ahead of schedule.
Dedication to Sustainability
American Airlines Hangar 2 receives Airports Going Green Honorable Mention
American Airlines Hangar 2 employs a number of sustainable features, including a high-performance building envelope, the use of daylighting, and high-efficiency mechanical, electrical, and plumbing systems.
Water conservation techniques were also implemented, including the use of native or adaptive grass species requiring no permanent irrigation systems.
The overall design, construction, and operation of the new facility reduces greenhouse gas emissions and conserves water and natural resources, while improving the well-being and productivity of American employees.
7000
Tons of structural steel were used during construction
14,000
Cubic yards of concrete
20,000
Linear feet of underground utilities provide point-of-use aircraft services
370,00
SF of new apron/taxi lane aircraft pavement (unless these are specific airport labels/terms that do need to be capitalized
19
M/WBE firms were awarded prime contracts
35%
M/WBE Participation was achieved, exceeding set goals
2019
ENR Midwest Award - Airport / Transit
Award of Merit | American Airlines Hangar 2 at O'Hare International Airport
Project Award | Engineering News-Record (ENR)