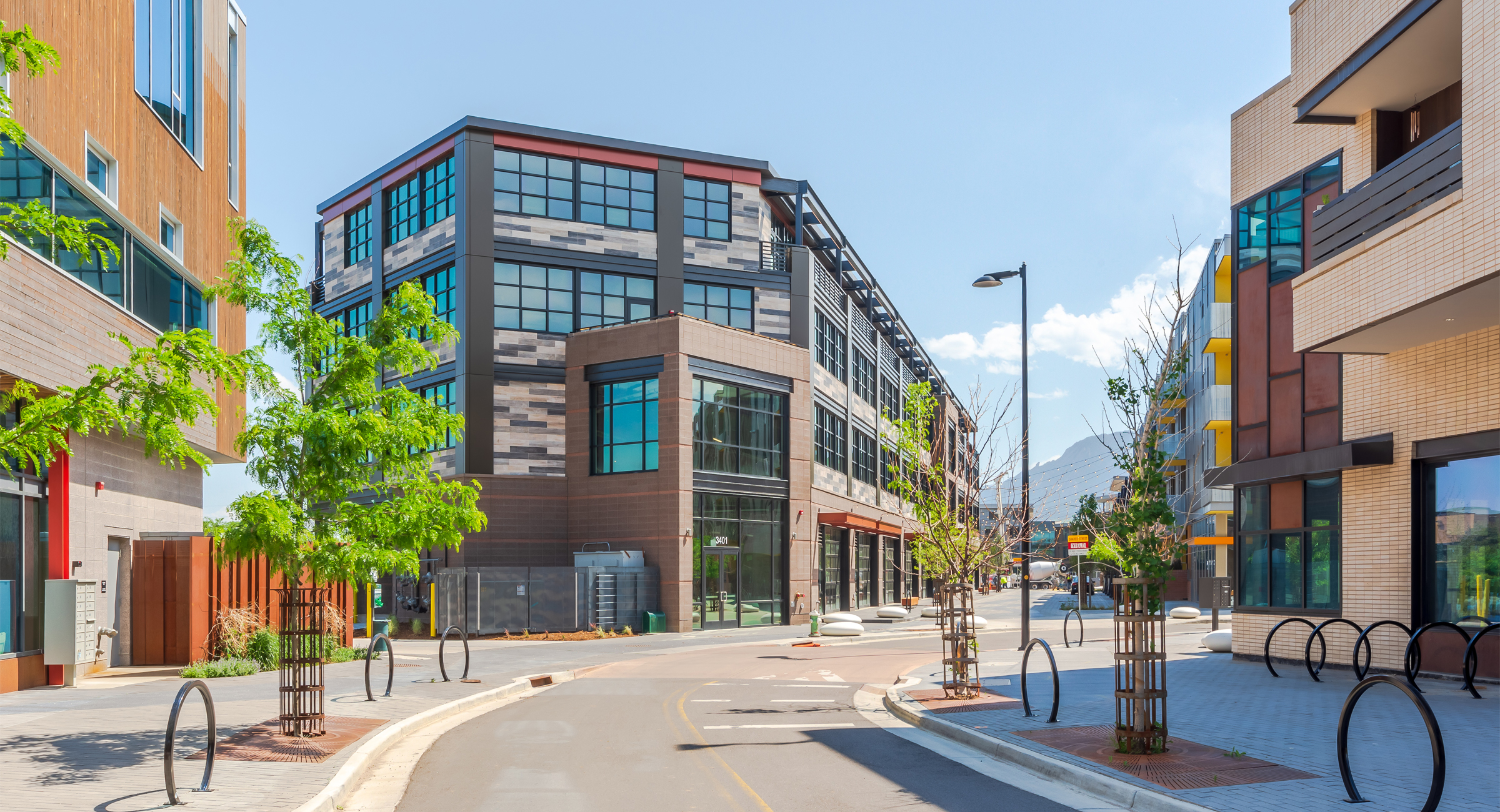 S'PARK Mixed Use Development
Boulder, CO
434k SF mixed-use community: two office buildings, two residential buildings, underground parking garage, site infrastructure work. Phased, four-year project.
Market Sectors
Offices
S'Park is a new 434,000 SF development that includes two office buildings (Market, Railyards) and two residential buildings (Timber, Ciclo) with one underground parking garage to service the S'Park district. W.E. O'Neil did the site infrastructure work to kick off this phased four-year mixed-use development project, formerly a 10-acre lumberyard in Boulder.
This interconnected community includes through-block 'short cut' routes connecting gardens, streets, and public transportation.
Market
Market is a new four-story, 51,000 SF office building with ground-level retail space. There is an outdoor amenity deck on level three and outdoor spaces on level four.
Railyards
Railyards is a newly constructed core and shell office building with ground-level retail. The architecture of this project plays off the train tracks and historic warehouses in the area using structural steel components in the design. The Woonerf Plaza is just west of Railyards, a one-acre plaza that connects the occupants of this building to the parking garage located under the Timber building.
Timber
The Timber mixed-use project includes retail, underground parking, 142 apartments, 8 townhomes, coworking and fitness areas, courtyards, a swimming pool, and amenity spaces.
Ciclo
Ciclo features a three-story, mixed-use, affordable housing residential building. The project consists of 38 residential units with a shared deck overlooking the Boulder Flatirons. The residential units are situated above a ground-floor common area and retail space.
Project Attributes
Award Winner

Sustainable Project

Repeat Client
Want to talk about a project?
Team Kudos
Client Service Through Project Management
Project Managers – Beth Mikon | David Taylor | Joe McEvoy
This project required the coordination of multiple stakeholders and the components of 5 buildings, which were in various phases of overlapping construction. The sites for each project were very tight, and our project managers did an excellent job of navigating neighbors' concerns surrounding the COVID outbreak and noise while working from home during the day. The project managers implemented safety protocols and developed a task force to keep the development moving forward.
1
Underground Parking Garage